Nigeria
Fashola's Belief In Legacy For Coming Generations Instructive – Activist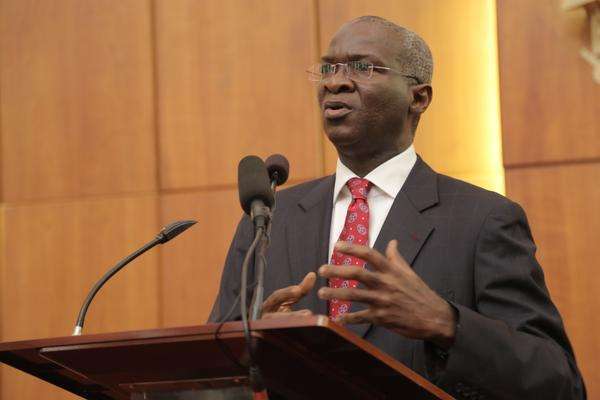 A human rights activist and leader of a pro-democracy platform, Royal Peoples Platform (RPP), Prince Dare Aladekoba, has said that the belief of the Minister of Works and Housing, Babatunde Raji Fashola, that leaving great legacies behind for generations unborn to enjoy and built upon is an instructive phenomenon, stating that, "if all political players in the country key into such a belief, the country would have been an Eldorado for long.
Aladekoba was passing comments on the message of Fashola's Keynote address delivered at the Ekiti State University recently during at the institution's 2021 General Assembly and Convention of the Alumni Association of which he was the guest lecturer.
Speaking on the topic, "Tragedy of leadership without legacy; Safeguarding the next generation of Nigerian leaders," former Lagos State Governor and current Minister of Works and Housing, reinstate his resolve to always improve on whatever he inherited from what was on ground and pass it on to the generations coming behind him, frowning at acts of apportioning blames instead of doing one's part.
While dissecting Fashola's paper, Aladekoba supported the Senior Advocate of Nigeria, when expressed reservation about seeing only the negative aspects of past leaders instead of seeing the little or much they did as triumphs that had laid a foundation for their successors to build on and not total tragedies of no value, insisting that, no leader would leave the stage and leave the stage virtually empty without something positive to point at.
The activist marvelled at Fashola when he went proverbial by saying, "I prefer to always see my glass and that of Nigeria as half full and not half empty," and thereby started the lecture, looking "for triumphs and not tragedies."
Aladekoba praised the minister who sharied with his august audience "a triumph and a legacy," when he went down the memory lane in reminding that, "up until 21st of March 1982, there was no state university in the old Ondo state and there was no (even) Ekiti state as a legal entity," let alone Ekiti State University, pointing out that, the creation of Ondo State by the military regime that the people abhorred like a plague has become a legacy that served as foundation for creating states that birthed "institutions of higher learning to prepare the next generation and make them ready to lead."
The youthful activist not agree less with Fashola in commending former administration for creating Ondo State University which Fashola tagged as "triumphant and not tragic," but a worthy legacy that any leader in the public or private sector would be proud of," agreeing with the minister that, "the triumphs and legacies did not stop there."
Aladekoba said, as an activist and as haters of dictatorship, General Ibrahim Babangida deserved the credit Fashola gave to his administration for his response to the yearnings of the people of Ekiti who were then part of Ondo State, by creating a state for them in 1996.
The youthful pro-democracy advocate also agreed that, hardly could we gtt anybody to support returning Ekiti State to his mother, Ondo State if a referendum were held today, admitting that, "such a referendum will almost certainly fail, if it ever emanates in the first place because the people of Ekiti are proud of their state."
Aladekoba gave kudos to Fashola for his submission that, creation of Ekiti State is a legacy and a triumph, but never a tragedy of leadership, agreeing that, as bad as the military that created it in 1996 were labelled to be, "we cannot dismiss something as worthy as Ekiti State, because we dislike those who produced it or the system by which they did it."
So, Aladekoba said, Fashola's description of the birth of Ekiti State in the premises of, "triumphs do not end, and the legacies continue," was apt and to the point, admitting that, it is true that one of the legacies that continue, "is the Alumni Association whose guest I am (Fashola) today, (because), without Ekiti State, and without Ekiti State University, from where would an alumni association of an Ekiti State University sprung forth?"
Against this backdrop, the youth leader, therefore, urged all Nigerians to "do away with negativity, look for possibilities, acknowledge little and modest successes, and let us work together to build for a better tomorrow," as Fashola admonished his distinguished audience, sharing the lecturer's regret that, "those who propel us to think negatively are not only thinking positively and acting positively, they are benefiting from our negativities, (so) therefore, I urge you to seek to do good things for a good reason not because we want to correct a bad thing."
Aladekoba expressed his support for Fashola on his lamentation that, "for too long, our developmental aspirations have been anchored on 'correcting what was wrong' when it can be anchored on an aspiration for self-improvement," declaring as apt, Fashola's quoting a source that said, "we should not delegitimize in order to legitimize."