Politics
2023 Presidency Declaration: Oshiomhole Is A Joker, Says NAFPOR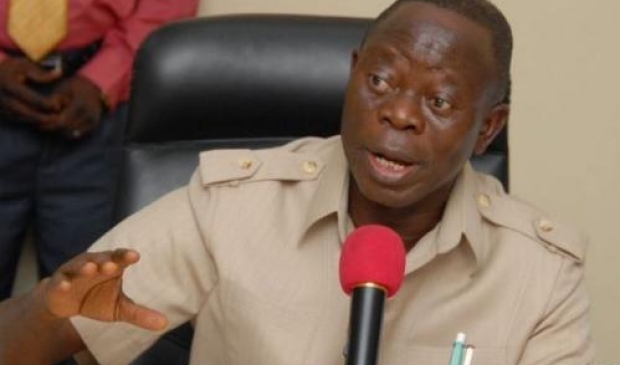 The leadership of the Nigeria Association for Public Opinion Research (NAFPOR) Edo State Chapter has challenged the former APC National Chairman Comrade Adams Oshiomhole to power his presidential declaration by taking the next step of purchasing expression of interest and nomination forms to qualify him as a Presidential aspirant as a mere declaration is not enough.
The group described Comrade Adams Oshiomhole as an unserious aspirant calling on him to learn how to be a Presidential aspirant from Pastor Tunde Bakare, Bola Tinubu and other Presidential aspirants who have declared, purchased the forms and show seriousness by also establishing campaign structures and organizations.
They wonder why the former National Chairman thrives in controversy and derives pleasure in creating Political crises. How can a man who is inviting delegates to his House to sign Senatorial nomination form at the same time be declaring for President?. They said Oshiomhole seems to occupy a strange Universe, where his personal feelings are more important to him than peace and Unity.
According to them, Oshiomhole has declared for both Senate and President in less than two weeks. Nigerians are looking forward to him further declaration for both House of Representatives and State House of Assembly. Nigerians know Oshiomhole to be very loud on all issues but wonder why he has decided to seek his Senatorial ambition Nicodemusely. Oshiomhole once said "it is only a thief that moves in the night but now that Comrade Oshiomhole has decided to be moving at night could he be one? He visited Senator Alimikhena and others at night could that be ascribed to him?
The Public Opinion Association insist that members of the public desire an explanation from Comrade Adams Oshiomhole on the motives behind his multiple declarations within weeks. No serious Nigerians should take Oshiomhole seriously because talk is cheap.
In a Communiqué issued by the Edo State Publicity Secretary of the Association, Comrade Blessing Igbon and made available to the media, the group revealed that Oshiomhole is playing politics for the fun of it without having anything to offer both Nigerians and Edo State apart from division.
The group maintained that, now that the arc seems slow, Oshiomhole must remember that Nigeria and Edo North are not the projects of any one person. And he cannot be declaring for President while he is purchasing Senatorial form. We challenge Comrade Adams Oshiomhole to go and purchase his Presidential nomination form as other aspirants had done.
It would be recalled that former commissioners to Adams Oshiomhole in his era as Governor and other Aides who worked with him as APC National Chairman, have all spoken via various publications to Caution him against his ongoing moves to destabilize Edo North Senatorial Zone with his secret Senatorial pursuit which they said will make Edo North to lose out in the main general election as Oshiomhole is not a marketable candidate to Edo Public. They said the incumbent Edo North Senator is the only financial oxygen of the party and any attempt to remove the incumbent Senator, will deepen the opposition status of APC in Edo State.