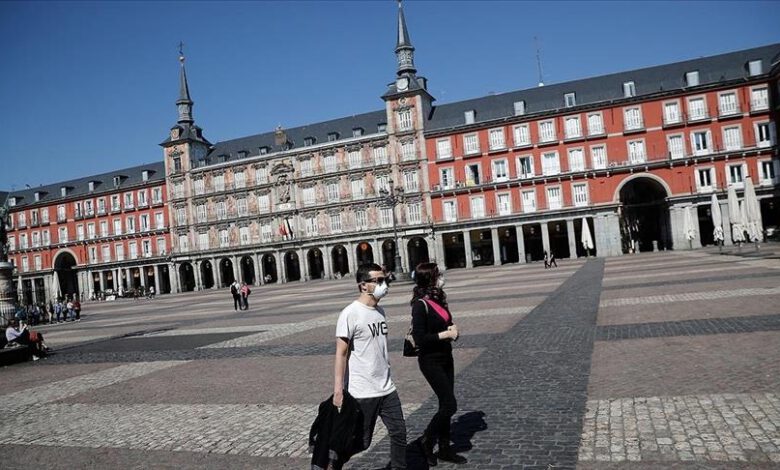 As Spain's COVID-19 infections increase, Health Minister Carolina Darias said on Friday that now is not the time to worry but to act.
For the first time since mid-September, the country's two-week infection rate has surpassed the threshold of 100 infections per 100,000 people.
Hospitalizations are at near-record lows, but are also starting to inch up. Around 2,300 people are hospitalized, an increase of 400 people compared to one week ago.
"We are in a key moment to stop the virus from spreading," said Darias in an interview with Spain's public broadcaster TVE. " I say we need to keep living our normal lives, but we need to protect ourselves with vaccines, masks, social distancing and hygiene."
At the moment, Spain has the best epidemiological situation in the EU, according to data released Thursday by the European Centre for Disease Prevention and Control.
Darias attributes the relatively rosy situation to the fact that almost 90% of residents over the age of 12 have been fully vaccinated.
She said that around 60% of the patients in intensive care units are from the small minority of non-vaccinated individuals. "We can see vaccines protect us a lot, but they don't make us invincible," she said.
Even so, getting more jabs in arms continues to be a key priority for the Spanish government. More than 3 million elderly and immunocompromised people have already received additional jabs.
"Today, according to observational data, there are no outbreaks in nursing homes," she said. "The third dose works."
While in Turkey this week, Prime Minister Sanchez announced the country also wants to expand third jabs to anyone older than 60, and all healthcare workers.
At the moment, the group with Spain's highest infection rate are those younger than 11. Getting children vaccinated would also help keep infections down, said Darias.
The differences are also spread out geographically. The Basque Country and Navarra, which both share borders with France, have infection rates more than double the national average.
The Basque Country recently announced new restrictions on large gatherings and is asking for approval to enforce vaccine passports to enter venues like nightclubs or large restaurants.
Several other regional governments are also mulling the expansion or implementation of asking for vaccine certificates.
"We already have such a high proportion of people vaccinated, but we'll let regional governments decide if it's worth it to incentivize vaccination and increase coverage by a few percentage points," said Darias.
In Spain, around 78% of people aged 20 to 39 are fully vaccinated, whereas 94.5% of those over 40 have opted for the jabs. Take-up has also been high in teenagers, of which 84% are vaccinated.
Looking toward the holiday season, Darias remains cautiously optimistic. "We hope this Christmas will be the same as ever, but people need to take care of themselves more than ever," she said.
In Spain, 100 people have died from COVID-19 in the last week, according to the Health Ministry.