Politics
Lagos '23: Movement Celebrates Tinubu's Endorsement Of Sanwo-Olu, Hamzat For 2nd Term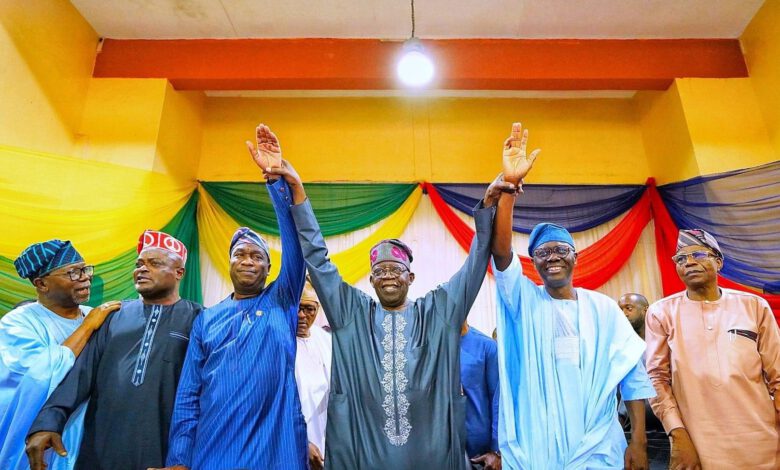 Lagos office of a pan-Lagos political group, Movement for a Better Lagos erupted in Jubilation Friday when the news of Asiwaju Bola Ahmed Tinubu filtered in that he has officially endorsed the second term in office of Governor Babajide Sanwo-Olu along with his deputy, Dr. Babafemi Hamzat.
Convener of the Movement, Comrade Omolola Olukayode, in a chat with our reporter said, "the jubilation was borne out of the fears some harbingers of fake news have instil in his members' heart that, the National Leader of the All Progressive Congress (APC), Asiwaju Tinubu has dumped Sanwo-Olu for a replacement."
Speaking further, Olukayode said, rumours were still rife in the recent time that, Sanwo-Olu would not run again with his deputy, the development that put cold water in his members' mind, saying, "we have been so worried because of the spanners such arrangements could throw into the perfect combination and close-knitted their combination has been."
The activist, therefore, declared that, "now, we can now go full throttle to sell the pair to the good people of the state because of the benefit it would accrue to the generality of the citizenry," adding that, "as our name implies, we want the best for the state and all the people and resident therein."
He, therefore, expressed the need for all hands to be on deck to make sure that the state and its people get the best out of the current democratic dispensation reminding us of the position Lagos State is occupying, not only in Nigeria, but in Africa and the world generally.
Olukayode stated further that, the jubilation cannot complete without giving kudos to Asiwaju Tinubu, who is gunning for the Presidential ticket of the APC and all the respected members of the Governance Advisory Council (GAC), of the party in Lagos for their thoughtfulness about the welfare of the people of the state.