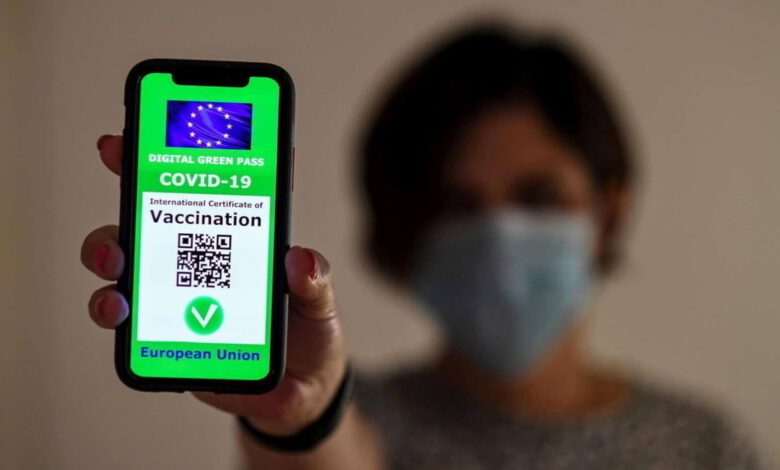 People are obliged to show their COVID-19 passes before entering restaurants, gyms and hospitals in Brussels as of Friday.
An updated act of the Brussels regional parliament entered into force on Friday that requires people over 16 years of age to show their "Covid Safe Ticket" before entering cafes, restaurants, fitness centers, discos, and cultural venues hosting more than 50 participants in the Belgian capital.
Visitors in hospitals and nursing homes must show their passes too, but patients are still allowed to enter the clinics without proof of vaccination or PCR test.
Without a pass, people can only sit on the terraces of bars and restaurants and go to cinemas, theatres, museums, and other cultural events that host less than 50 participants.
The so-called "Covid Safe Ticket" is in reality the same pass that was introduced in the summer to facilitate travel within the EU.
The document is available on smartphone or paper format, featuring a QR code that allows determining the COVID-19 status of the holder.
It proves if a person had received all the recommended doses of vaccine approved by the European Medicine Agency, had a negative PCR test over the past 48 hours or a negative antigen test within 24 hours, or recovered from the illness in the last six months.
The region of Wallonia will introduce the same measures as of Nov. 1.
The COVID-19 infections have recently started to rise in Belgium.
According to the latest data published by the research center Sciensano on Friday, this week an average of 2,277 new cases were reported every day, which is a 19% rise compared to the last week.
On Monday, a record number of 3,872 coronavirus cases were detected, which is the highest number since May 3.
In total, 73.4% of the Belgian population is vaccinated but vaccination rates significantly vary in across the country.
The capital has the lowest vaccination rate of 53.3%, followed by 68% in Wallonia, while over 79.6% of the population has been inoculated in Flanders.