Politics
2023: Nationwide Rally For Fashola Loading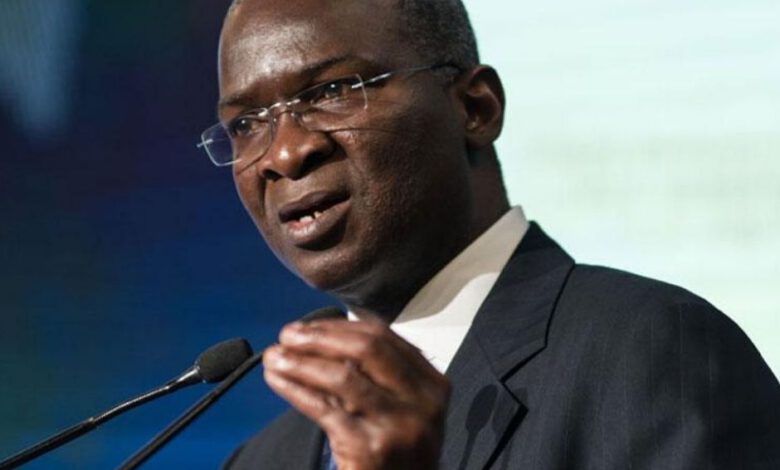 In view of the erroneous impression that former Lagos State Governor and current Minister of Works and Housing, Babatunde Raji Fashola (SAN), cannot boast of any political structure on ground, a consortium of various right groups and pro-democracy organizations is already at work planning to storm the streets to showcase the popularity of the Minister across the country.
Our findings revealed that, some die-hard admirers of the Minister, who have been holding back for long are now hitching to go out in full throttle to convince all the doubting Thomases that, they are ever ready and available for Fashola at his beck and call, explaining that, the reason for keeping silence is to avoid being mistaken for some political jokers galvanizing around the place showcasing emptiness.
Our checks also confirmed that, the rally would be under a non-governmental coalition of Concerned Citizens for Nigeria's Better Future (CCBF), and it would not be sponsored by anybody because participants would be volunteers who believe in what Fashola can still do if brought forward again for higher responsibility.
The rally, according to our investigations is tentatively slated for late December this year and is being planned to take place in major cities across the six geo-political regions of the country. An Abuja based activist, who does not want his name in the media yet, told our reporter that, the rally is being put together to shake the country to its foundation, adding that, not a few political observers would be dazed by the crowd the rally would pull for Fashola.
A couple of activists interviewed though confirmed that something towards that project is in the offing they refused to give details saying, the cat would be left out of the bag very soon.
Convener of the Yoruba Radical Assembly (YRA), Comrade Omolola Oriade, who saw nothing wrong in the proposed rally, said, his organization, would be fully involved when the time comes for it stressing the need to get involved in any activity that can deepen democracy in the country.
According to him, what makes the news of the proposed rally cheering news is the personality involved, stating that, anything about Fashola is always a thing of interest because of his Midas touch.
Debate on whether Fashola has a political structure or not was provoked by This Day editors' question during an interview with him as reported by Gazelle news to which he replied, "I've My Own Political Structure, Only I Know My Structure."
Against this background, a pro-democracy organization, the Youth Advocacy Initiative (YAI), in an earlier online report has expressed confidence in the former Lagos State Governor, Babatunde Raji Fashola (SAN), that, "since he has said he has a political structure of his own, his words can be taken to the Central Bank of Nigeria (CBN)."
Convener of the group, Comrade Adekunle Akinde, according to a report in Lagos Wednesday, wondered how anybody under the sun in today's Nigeria would believe that the Minister of Works and Housing would be so naive that he would not be smart enough to have been nurturing a formidable political structure with all his experience in governance!
The activist was quoted to have said in the report that, the maturity and humility the Senior Advocate of Nigeria (SAN), is exhibiting in his way of doing things should not be mistaken for naivety, pointing out that, in his character, fixing eyes on the ball without giving rooms for any form of detraction has been his joker for excellent performance.
Akinde disclosed that, "we have been monitoring Fashola since when he was the Chief of Staff to Governor Bola Tinubu and we knew that, if he continued that way, the sky would be too low to be his limit," saying, "with how he has been ascending the ladder of leadership, we have been soundly proved right."