Hamilton Wins Singapore GP
After conquering the Singapore Grand Prix on Sunday, Lewis Hamilton is heading towards his fifth world championship, which would equal Juan Manuel Fangio.
This track has been one of the worst for Mercedes in recent years, but a wonderful drive from the Englishman has ensured he leads the standings by 40 points with six races to go.
Try as he might, Sebastian Vettel was unable to manoeuvre himself into a good enough position to attack Hamilton, and on lap 15, Ferrari called him to the pits to put him on ultra soft tyres for a more immediate benefit.
However, he not only couldn't prevent Hamilton from retaining first place (lap 16), but Verstappen overtook him on lap 17 and relegated him to third.
Frankly, that compound offered nothing.
Alonso 7th and Sainz 8th, in an excellent race
Fernando Alonso applied himself well and a seventh placed finish was respectable for the Spaniard.
Carlos Sainz stuck close to Alonso to imitate the same drive, which included the same pit strategy, and he eventually finished in eighth position.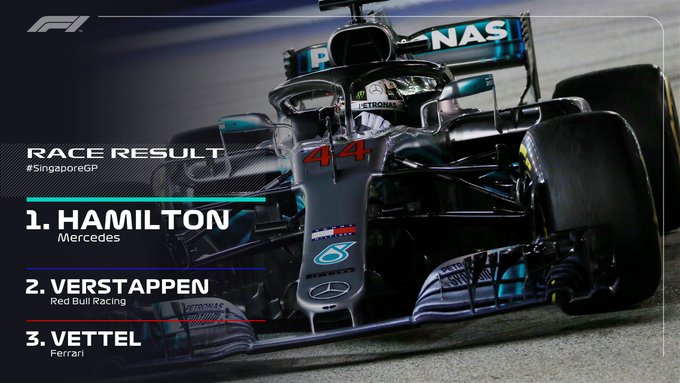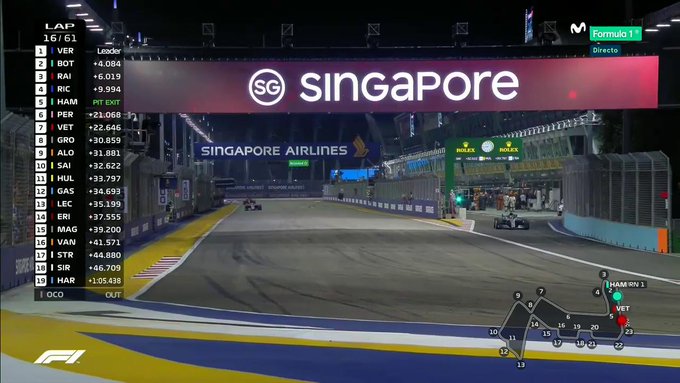 Singapore GP
1º L. Hamilton (B) Mercedes 1:51'11″611 61
2º M. Verstappen (B) Red Bull + 8″961 61
3º S. Vettel (U) Ferrari + 39″945 61
4º V. Bottas (B) Mercedes + 51″930 61
5º K. Raikkonen (B) Ferrari + 53″001 61
6º D. Ricciardo (U) Red Bull + 53″982 61
7º F. Alonso (B) McLaren + 103″011 61
8º C. Sainz (B) Renault + 1 lap 60
9º C. Leclerc (H) Sauber + 1 lap 60
10º N. Hulkenberg (U) Renault + 1 lap 60
11º M. Ericsson (H) Sauber + 1 lap 60
12º S. Vandoorne (U) McLaren + 1 lap 60
13º R. Grosjean (B) Haas + 1 lap 60
14º P. Gasly (U) Toro Rosso + 1 lap 60
15º L. Stroll (U) Williams + 1 lap 60
16º S. Perez (B) Force India + 1 lap 60
17º B. Hartley (H) Toro Rosso + 1 lap 60
18º K. Magnussen (H) Haas + 2 laps 59
19º S. Sirotkin (B) Williams + 2 laps 59
20º E. Ocon (H) Force India Retired v1