Politics
Ojodu Is One, I Don't Do Factions, I Do APC, Odunmbaku Tells Ohaneze Ndigbo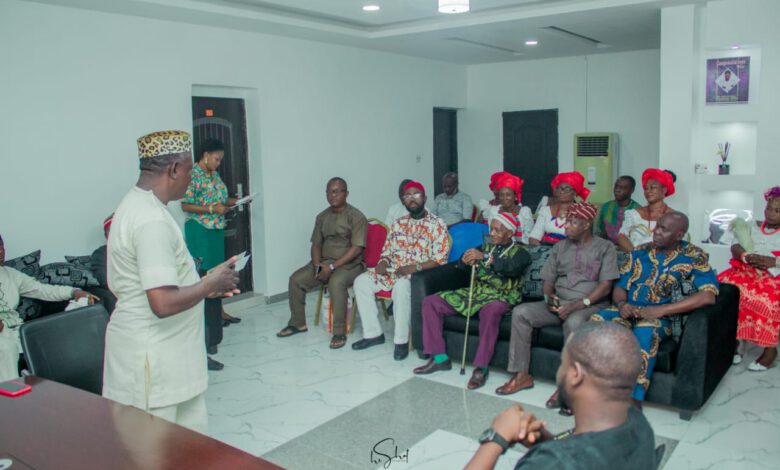 Ohaneze Ndigbo Worldwide paid a courtesy visit to the Executive Chairman of Ojodu Local Council Development Area (LCDA), Mr David Olusegun Odunmbaku (DOS), at the council secretariat on Thursday.
The group's Ojodu chapter led by its Chairman and Coordinator-Ethnic Support Group, Chief Chidi Gidson Umunakwe and Eze Udo 1 of Ndigbo, EzeChimereze Johnson Ejikeme, congratulated the council chairman on his victory and acceptance of his leadership.
"When we came in, we saw all the honourable members, that shows there's peace and love here. So we have come on this courtesy visit to say thank you and continue what you doing," Umunakwe said.
He added that: "Every man is a politician, we are also politicians and we have been part of Ojodu politics, so we'll continue to support you any time you call on us."
On his part, EzeChimereze said: "We'll be supporting you in everything you are doing to make this office greater."
In his remark, Odunmbaku said Nigeria remains one and advised the Ohaneze Ndigbo to embrace peace.
His words: "On behalf of the good people of Ojodu LCDA, I welcome you all to the council, I am happy you noticed that we are one family here. Yes, we have gone through elections but these are my friends. Luckily enough, we're together during the last administration, some of them were councillors while I was the secretary and moving forward, we need all hands on deck, their experiences can't be washed away.
"Now, it's not a personal thing, it's now, will this benefit the community, if it's going to benefit the community that means we must be together and that's what we have been doing."
"And for the Ohaneze too, I looking forward to one day where there will be peace as well, where there will be no factions because this heat up a lot of development coming to that particular group. It's one party, one family, one Ojodu, I don't do factions, I do APC and that shows unity."
On his administration agenda for the community, the council boss said: "We have to promise you that the confidence you have put in us is intact, it's a win-win for us, I have to say whenever you need the government, we will be there. We'll make sure that dividends of democracy get across the nooks and crannies of the community and as I said, Nigeria is one, Ojodu is just a microcosmic of what the country is like, whether you are a Hausa, Igbo or Yoruba, you are a Nigeria."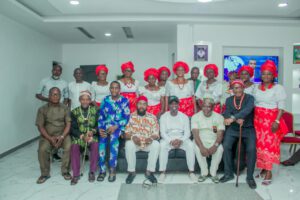 "If you are in this community, the dividends of democracy should get to everyone regardless of affiliation, tribe or race, that's the government I want to be part of and that's the community I want to build so that those coming after us can be proud of us," he concluded.