Interviews
I'm Single, Not Married, Yet, Not Searching, Declares Nafisat, Youth Corps Member, Movie Script Writer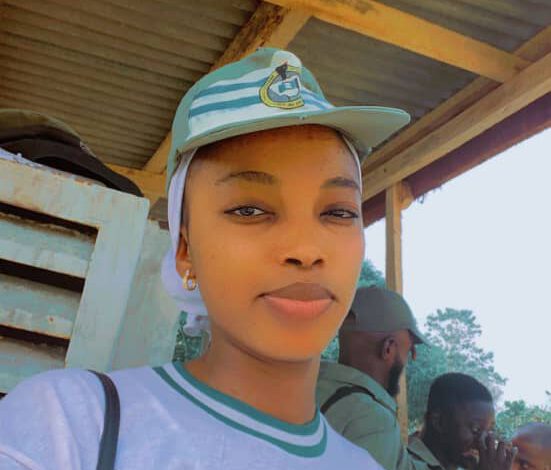 Her name is Nafisat Olanike Ademola, a tall, fragile fair complexioned youth corps member serving in Ogun State of Nigeria. In a chat with select entertainment writers in Lagos Wednesday, she took a critical look at the situation in the country today and declared that, "idle and uncreative minds cannot survive."
 How can we introduce you?
My name is Ademola Nafisat Olanike I hail from Ira town, in Oyun Local Government of Kwara State. I am in my twenties. I graduated from the Federal Polytechnic Offa also in Kwara State where I studied Mass Communication.
What do you do presently?
I'm serving (NYSC) in Ogun State and I just started to under study the movie industry with a view to pursuing a career in script writing fully later after my service year around July or thereabout this year.
What else do you do to make extra income besides your current stipends?
I'm into skin care products, I actually have a couple of natural products I produce myself which I sell to make some income. The brand's name is Teemah Series.
What then motivated you to choose script writing as pastime?
I have always known I would be a script writer. The trait has always been in me. Growing up as a child I used to write stories at the back of my note books  and I always found myself as a script writer then in secondary School and other institutions whenever we have programs in school.
How lucrative is it?
It's not bad. I am moving around with it. You know half bread is better than none at all.
When did you start romancing with the movie industry and how many films have you produced so far?
I can say, the romance officially started in 2021. However, I haven't produced any movie of my own.
Have you presented any of your scripts to any producer?
I will say yes and no at the same time. Yes in the sense that I once gave my work to one of the producers I thought I trusted but he fucked me up big time. He tinkered with my work  and I don't really like the change he made in that story. So I didn't claim the movie as my work. The business relationship between us did not end well because of that development! That's why I said no.
How do you then feel about the awful experience?
I only viewed it as an experience and part of life challenges. I have resolved to produce the story by myself later because I have the story off hand. It cannot get stale because it is a true life story.
Why have you not been producing yourself?           
We are all aware that, every business requires adequate funding. It is always about money. And when I gave him the script, I was not financially buoyant to produce any movie by myself. And now that I can raise some funds, I don't have sufficient experience to scale through. So I have to be patient and learn more to gain cognate experience needed for operation.
Do you act? If no, why are you not acting?
No I don't and can't act. I don't see acting as my way of life. I have always dreamt of becoming a script writer and Movie Maker. And that is what I am currently working towards.
It appears you have decided to choose script writing as a career?
(Cuts in..)Yes, of course, you are right. That has always been my wish and dream.
Do you have career counsellor(s) in the movie industry?
Yes. He is Mr Monsuru Akinwande. He is a great man and God bless the day I met him. He gives me full support, encourages and enlightens me on how to become great in the industry. He is script writer, actor and movie producer all rolled into one.
Are you married, single or searching?               
I'm not married, I am not single and I am not searching.
How do you mean?
 I simply mean that I am already in a serious and stable relationship.
When then are we expecting your wedding invitation?                 
Marriage comes naturally in the course of one's life. So, when God says it's time I will announce my wedding and hopefully, you will be among the first persons to be invited.
Do you have any advice for your colleagues?
My only advice for them and others out there is that, Nigeria is a very big market with a lot of opportunities for creative minds. And so, they should think out of the box by getting creative and not sit idle for the manna that may not drop from heaven!