Education
Edo Poly Matriculates 2,200 New Students, As Rector Lauds Obaseki On Support, Partnership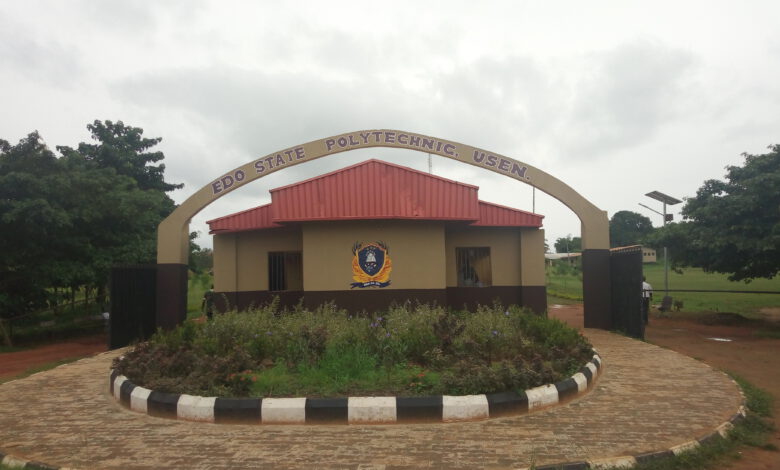 The Edo State Polytechnic, Usen, has matriculated 2,200 new students into its National Diploma (ND) and Higher National Diploma (HND) programmes, with the intakes charged to be of good character and pursue excellence in their studies.
Rector of the Polytechnic, Professor Abiodun Falodun, made the submission during the school's 19th matriculation ceremony, held in Usen, Ovia South West Local Government Area (LGA) of Edo State.
The Rector noted that the Edo State Governor, Mr. Godwin Obaseki, has provided immense support to drive change and community impact in the school, especially in securing accreditation for new programmes.
He added that the governor recently entered into partnership with the school for training of government's secretarial staff in computer science/data processing.
According to him, "It is my pleasure to inform you that during the last accreditation exercise, some academic programmes were fully accredited by the National Board for Technical Education (NBTE). The Management is also making preparations to invite NBTE for accreditation and resource inspection of more programmes. Our sincere gratitude to His Excellency, Governor Godwin Obaseki, for the invaluable assistance in the accreditation exercise. Today, we are matriculating 2,200 new students.
"I am glad to also inform you that just recently, the Edo State Government entered into a partnership with Edo Poly to train secretarial staff in computer science/data processing in line with Mr. Godwin Obaseki's intention to reposition the civil service for effective service delivery."
On the need for students to be committed to their studies, he said, "I want to encourage you to face your studies squarely and not give room to the devil. Management will enforce all the academic and administrative rules of the polytechnic, in order to ensure the production of quality graduates. You were admitted here to be refined both in character and creative ability that would improve the technique of performing specific tasks, thereby increasing the efficiency of your personal and societal efforts."