Nigeria
Community Lauds Delta Governor Over Road Project
By Ovie Adasaji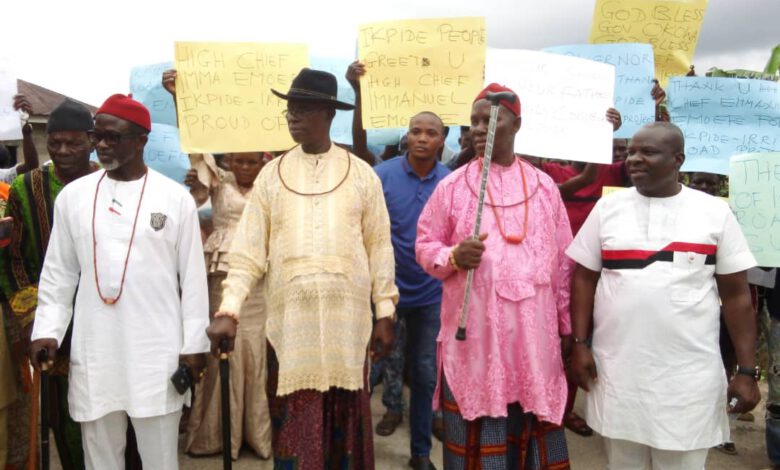 Governor Ifeanyi Okowa of Delta state has earned the praises of the Ikpide-Irri community in the state, who have expressed satisfaction with the quality and standard of the road project made possible in their community by the Okowa administration.
Speaking to newsmen on behalf of the community, the President General, Engr. Orose Edemo stressed the satisfaction of the community with the ongoing project.
He said the indigenes had no problem with the road project in progress, adding that even while under construction, the road has been serving the community.
"Ikpide are happy with the road that is being constructed, Ikpide has nothing to do with anybody that claims the road is not good. All such claims are false. Any claim that the road is substandard is in the imagination of those that are making such claims and in the newspapers, it is not the reality on the ground which you have seen for yourself.
"All the areas and sections that have been done are motorable, we have trailers coming here, and we have tankers driving in and going out there have been no problem. Since you came, you have been going around, have you seen any problem with the road? So, we are very satisfied with the work that is going on.
"We want to thank His Excellency for this kind gesture, Ikpide is a small community and we are so surprised that he has chosen to fish us out, we are happy and we pray that his administration, his smart agenda is a testimony to behold and that God should bless him. We equally use this medium to ask for His Excellency's more larges."
On his part, a former President General of the community, Hon. Pius Utolo, urged the people to appreciate the governor and everyone else used by God to make the road possible. He specially thanked High Chief (Amb.) Immanuel Emoefe for attracting the project to the community.
"We don't have oil, we don't have any means of generating revenue to the state yet he considered us and gave us this road, so we are very happy and pray that God will bless them abundantly."
Speaking on the quality of the road, the site Engineer of Portplus Limited in charge of the project, Surveyor Ike Chidindu, said the company has maintained the standard in the BOQ it signed with the state government.
"The major challenge we are having is that there are some likely internal crises, whether political or communal, I don't know, but they are using it to face this job, giving us series of problems. Sometimes they will bring people and harass us saying what we are doing is not the right thing and all of that.
"We have been following the standard that government gave, yet they will still be harassing us. The government officials have visited severally to certify that what we are doing is in order, but I don't know what these people want, he added.