Rest of the World
Saudi Ban On Tablighi Jamaat: Ahmadiyya Nigeria Demands Immediate Retraction And Apology From PM News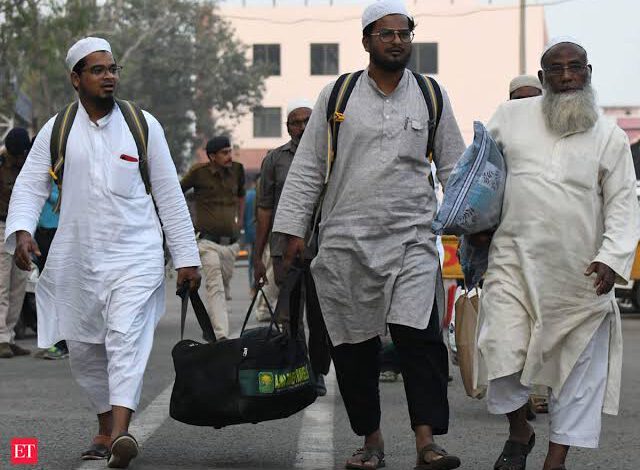 Ahmadiyya Muslim Jama'at Nigeria has officially responded to the PM News report on Saudi Arabia ban on Tablighi Jama'at.
The Jama'at through its solicitors demanded an immediate retraction of the report and apology from the online news medium.
The solicitors explained that the image and video used to illustrate the story misinterpreted the true picture of what Ahmadiyya Nigeria stand for.
Read the full letter below:
BMB/PM NEWS-WRONG PIC/VID-AHMADIYYA Sunday 12th December, 2021
The Editor in Chief
PM News Nigeria
Lagos
Dear Sir,
SAUDI BAN ON TABLIGHI JAMAAT: DELIBERATE ATTEMPT TO MISREPRESENT AHMADIYYA MUSLIM JAMA'AT OF NIGERIA
DEMAND FOR IMMEDIATE RETRACTION AND APOLOGY
We write as Solicitors and Legal Practitioners whose services have been retained by Registered Trustees of Ahmadiyya Muslim Jama'at of Nigeria of Kilometer 27, Lagos Abeokuta Expressway, Ojokoro Lagos hereinafter referred to as our Client.
Our Attention has been drawn to malicious publication of 11th December 2021 bearing a caption "Saudi Ban on Tablighi Jama'at in Nigeria, calls it a terror group".
In the entire body of the news from its original source at https://www.organiser.org/world/saudi-arabia-classifies-tablighi-jamaat-as-partisan-group-asks-imams-to-warn-public-against-it-8992.html nothing about Ahmadiyya Muslim Jama'at or Nigeria was mentioned.
Your medium deliberately chose to mislead the general public into believing that our Client was a terrorist organization and substituted the original photograph used with the photograph of the National Head of the Ahmadiyya Muslim Jama'at of Nigeria and a video clip of the national workshop of Ahmadiyya Muslim Jama'at of Nigeria on propagation held April 2021 on your url (http://pmnewsnigeria.com/2021/12/11/saudi-arabia-bans-tablighi-jamaat-in-nigeria-calls-it-terror-group/)
TAKE NOTICE AND notice is hereby given that you immediately bring down the photograph and video of Ahmadiyya Muslim Jama'at of Nigeria used in your disparaging news item and publish a retraction of the misinformation.
We also have our Client's instruction to demand a published apology both in writing to the Amir/Head of the Ahmadiyya Muslim Jama'at of Nigeria and a publication showing the removal of image or clip of Our Client on the defamatory news item.
TAKE FURTHER NOTICE that you have 24 hours to react and comply with these demands, failure upon which on the instruction of our Client we shall proceed against your company in fierce litigation.
You have been warned!
Yours faithfully,
For: BADR M. B. & CO.
Badr M. Bashir, LLB, BL, LLM, (PhD)