News
PiPO Donates Cash To Victims Of Eight Rooms Apartment Razed By Midnight Inferno In Akowonjo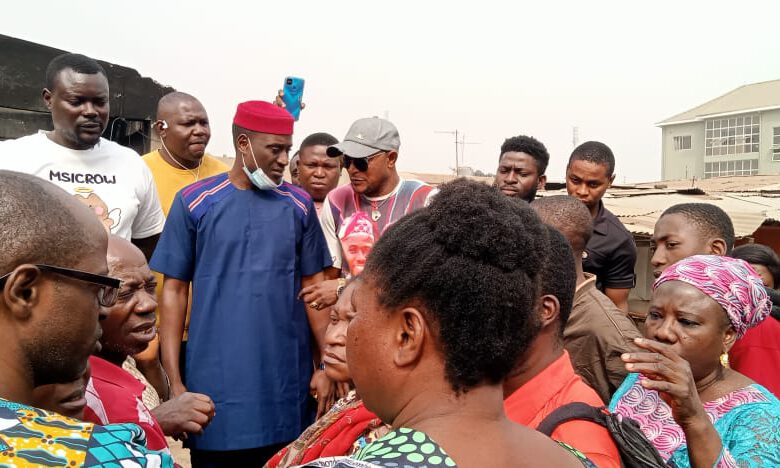 Hon. Yusuf Oladipipo in his magnanimity has provided succour to the victims of a midnight inferno that happened in Alimosho area of Lagos, on January 28, 2022.
PiPO as he's fondly called is politician, businessman and a philanthropist. A strong disciple of Asiwaju Bola Ahmed Tinubu, spearheading the clamour for the APC national leader's presidential ambition in Alimosho Federal Constituency.
The astute businessman was within the neighborhood when the eight rooms building located at No. 3, Oke street, Akowonjo in Alimosho was reduced to ashes during the midnight inferno.
It was reliably gathered that the fire outbreak which ravaged the building till the early hours of Saturday, was as a result of an electrical fault in one of the rooms in the building.
The unfortunate inferno also affected adjourning buildings while properties worth millions of naira were lost in the process.
Affected families were left gnashing their teeth while counting their losses.
Walking through the debris with no hope of salvaging any of her personal belongings, Mrs. Ekwem, one of the occupants of the building painfully explained that they were in church while others were away when the fire started.
"We have lost so many things, God have mercy", she said tearfully.
While agonizing, Mrs. Ekwem expressed gratitude to Hon. Yusuf Oladipo for donating the sum of hundred thousand naira each to the eight families affected by the fire incident. "This is a big relief to us. I pray to the almighty God to keep blessing him and his household. He is a good man. This is very uncommon," she said.
PiPO who was in the neighborhood on a courtesy visit to some family members joined in the rescue mission by the members of the community to put out the burning fire before the eventual arrival of the Lagos State Fire Service.
According to PiPO,"I was in the area to see my in-law on the night of the unfortunate incident. I quickly rally those around me in coordinating an effective rapid response to make sure no live was lost. Unfortunately, the fire had already razed down the building and destroyed personal belongings of the hapless occupants.
"We are grateful no live was lost, except for an individual who suffered some certain degrees of burnt. I'm very hopeful he'll be healed in good time. I already made arrangements for the payment of his bills when I visited him at the hospital. I've also made plans to give him other needed support till he is fully back on his feet."
While commiserating with the victims of the fire disaster, PiPO promised to be back on routine checks to monitor their welfare.