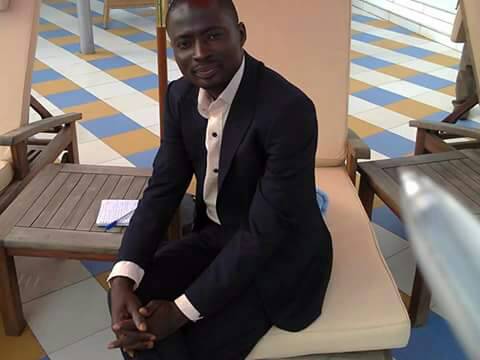 A journalist with the Daily Trust Newspapers, Nurudeen Adeyinka Oyewole has emerged the first Nigerian and sub-saharan African journalist to win the East-West journalism fellowship in United States.

Oyewole, a Senior Reporter at the Lagos Bureau of the Daily Trust newspapers will be joining 13 other international journalists selected from Asia, North America, Europe and Africa.
Since the journalism fellowship began in 2003, organisers said this is the first time a journalist from sub-saharan Africa is being nominated even though a number had previously been selected and participated from North Africa/Middle East (MENA) region.

Also known as Senior Journalists Seminar (SJS), the fellowship is a 21-day immersive study and tour of three countries in three continents.
Nominated fellows for the 2017 edition are scheduled to engage in Washington DC and Minneapolis in Minnesota, United States (North America); Manila and Cotabato City in Philippines (Asia) and Rabat in Morocco (Africa).
The East-West Center, located at Honolulu, Hawaii, United States was established by the US Congress in 1960 to serve as a resource for information on critical issues of common concern, bringing people together to exchange views, and policy options. The Center has as a key objective of 2017SJS, the sharing of knowledge and perspectives that takes place among the journalists. Central to this sharing are papers and presentations prepared by each journalist related to the seminar's objectives.
The papers are expected to address religious compositions in journalists' respective countries, the constitutional rights and legislation that protect and/or limit religious freedoms, how religion impact domestic politics and policymaking, how minority religions included (or not) in politics, economics and culture as well as the role being played by religion in foreign policymaking.

Fellows are also scheduled to participate in a meeting with the State Department officials and the U.S. Pentagon regarding international media engagement and countering extremism, among other high-leveled meetings, deliberations and engagements.

Specifically, the 2017SJS will begin in Washington, DC with an overview of the American political system, including the U.S. Constitution's First Amendment, federalism, the separation of powers, and congressional influencers on foreign policymaking. Other foundational sessions will examine the religious make-up, diversity of religious identity, and the prayer and attendance practices of the American public. The Washington, DC study tour will also feature participant presentations summarizing religion's role in their home countries.

In Minneapolis, journalists will experientially explore America's multicultural and multi-religious society, the experiences of minority religious communities, initiatives bridging faith divides, and how cultural and religious identity, experience, and diversity is expressed in the literary, visual, performing, and media arts.

Throughout the U.S. study tour, journalists will consider the political, military, and cultural engagement of the U.S. with Muslim majority regions.
The study and tour in Manila/Cotabato City, Philippines and Rabat, Morocco will contextualize and compare religion's role in the public sphere across democratic nations; provide first-hand exposure to and more nuanced understanding of the diversity of Muslim societies; and build the professional networks of participating journalists.

Meetings with government officials and academics in all three countries will explore domestic and international counterterrorism efforts and opportunities for cooperation. Interactive experiences will also be included to deepen journalists' understanding of Muslim cultures through the arts, culture, and new media. Finally, the media's role in choosing, framing, and disseminating stories with a religious element and its effective shaping of public perception and U.S. relations with Muslim majority regions will be explored.

Oyewole joined the services of Daily Trust Newspapers in October 2011. He had earlier won 2010 Diamond Award for Media Excellence (DAME) in political reporting. He also emerged runner up in the 2014 Wole Soyinka Investigative Journalism Award (WSIJA) in health category.